This article or section needs to be cleaned up to conform to a higher standard of quality.
See How to Edit for help, or this article's talk page.
Chris Widin
Chris in 2018
Alias(es)
Chris Paul
Born
Chris Widin
August 24, 1994 (age 24)

Residence
Los Angeles, California
Nationality
American
Occupation
Production assistant
Director
Years active
2016 - present
Internet information
Channel
Chris Widin
Twitter
@chriswidin
Instagram
chriswidin
Chris Widin is the production assistant and camera operator of GTLive, working with hosts Matthew Patrick and Stephanie Patrick and producer Jason Parker. He also helps in creating the livestream events and making thumbnails for videos across the three channels.
History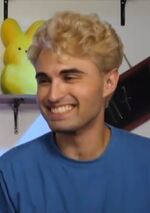 Chris Widin was born on August 24, 1994, and grew up in Angier, North Carolina, where he went to the same school as Stephanie during high school. He attended college for Film and Cinema Studies, graduating in 2016.
Chris eventually moved to Los Angeles, California, and was invited to work at Theorist Media and substituted for Jason as producer while the latter was away at his wedding, after which he became a regular member of the GTLive crew as the production assistant. His job includes co-managing the sound and camera with Jason, creating the livestream events, making the artwork, etc. He also helps with the editing of Game Theory and Film Theory.
Chris also works as a director for an independent short film studio called Tap Short Film that he co-founded with his friends.
Trivia
Chris's natural hair color is black, but he dyed his hair blond which, for a while, earned him the nickname of "Chris Paul" and the recurring joke that he is an unknown Paul brother. (Source Needed)
Since the Logan Paul drama, MatPat and Stephanie have decided to stop using this nickname.[1]

Chris and Stephanie have known each other since high school, where she and Chris's sister were classmates. (Source Needed)
Chris produced a short film called Sun is King, which won an award in the North Carolina Film Awards, in 2015. (Source Needed)
Chris has to drive for about an hour and a half every day to work at the Patricks' house. (Source Needed)
Chris is usually criticized for his daily artwork in the #GTLive board, but he has also managed to create some almost decent artwork in rare occasions. (Source Needed)
Chris did his first Haunted Maze/House together with Jason on a GTLive episode.
References
Community content is available under
CC-BY-SA
unless otherwise noted.